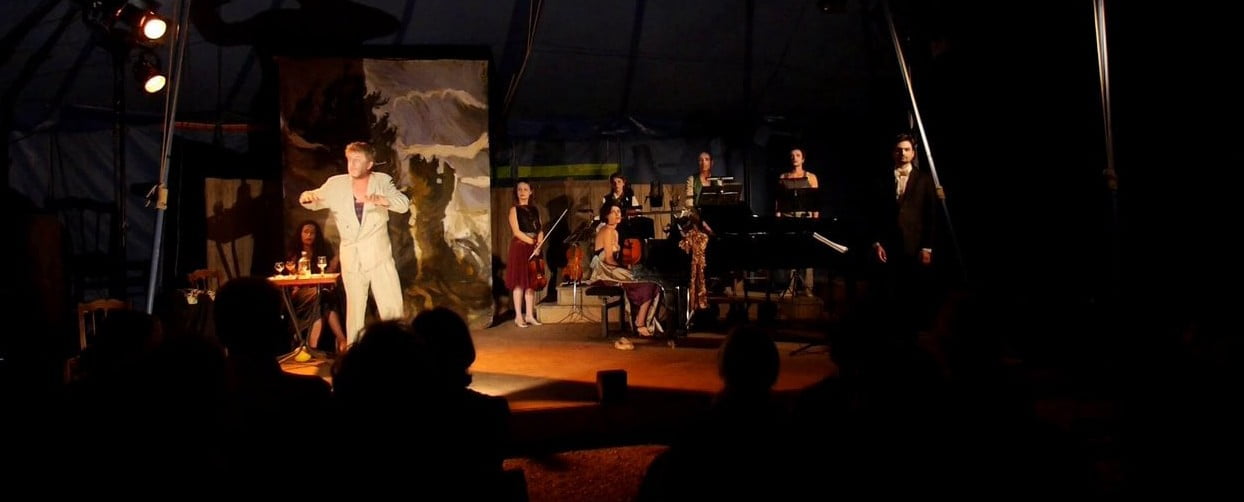 An intellectual and subversive review, which handles satire and black humor in a grating and poetic atmosphere inspired by the Berlin cabaret of pre-war.
An authentic cabaret of today, the result of a collective work guided by Pierre Meunier, the show's leader, from the proposals of the five musicians, the conductor, the singer and an aerial dancer.
When he wrote the cycle that was to change the course of twentieth-century music, Arnold Schönberg wanted the 21 melodramas based on Albert Giraud's famous cycle to be "spoken and sung" in the language of the country where they were performed, in keeping with the very young tradition of Berlin cabaret. The poet's verses were set to music by the composer in a very free German translation by Otto Erich Hartleben, stripped of their rhymes and the original metre. Thanks to his translation, which is as faithful to Schönberg's prosody as it is to Hartleben's version, Guillaume Bourgogne gives the French text the expressiveness and rhythm of the emphatic style of the cabarets and theaters of 1900.
Incorporated into a show with numbers, the cycle takes on its function of entertainment, where Pierre Meunier's elucidations meet Michaux's hallucinations, Satchie Noro's aerial dance counterpoises Jessica Martin-Maresco's punk voice, and Thierry de Mey and Guilhem Meier's scores respond to the illustrious Viennese. Each musician of the Op.Cit ensemble, repainted for the occasion as a cabaret artist, lends himself with virtuosity to this poetic and absurd review.
Musical direction : Guillaume Bourgogne, Stage direction : Pierre Meunier, French adaptation : Guillaume Bourgogne
with : Pierre Meunier : actor, Satchie Noro : dancer, Jessica Martin-Maresco : voice, Sabine Tavenard : flute, Alexis Ciesla : clarinet, Claudine Simon : piano, Albane Genat : violin & viola, Noémi Boutin : cello
Lighting design : Hervé Frichet, Sound design : Frédéric Finand, Costumes : Emily Cauwet
Music : Pierrot Lunaire / Arnold Schönberg, La Chute / Guilhem Meier, Silence must be / Thierry de Mey, Densité 21,5 / Edgar Varese, Pisse / Guilhem Meier
https://claudinesimon.com/wp-content/uploads/cabaret-lunaire-e1442846750760.jpg
502
1244
Claudine Simon
https://claudinesimon.com/wp-content/uploads/Claudine-Simon-log.png
Claudine Simon
2021-06-20 20:50:32
2021-06-26 13:32:28
Cabaret lunaire