Conception, creation, performer : Claudine Simon ; Visual artist, performer : Rudy Decelière ; Sound engineer : Laurent Sassi, Yoann Sanson ; Outside listening : Alain Savouret ; Outside view : Pau Simon ; Lights : Guislaine Rigolet ; Piano maker : Thomas Garcin ; Electromagnetic device : Collectif Sonopopée ; Stage and general management : Pierre-Henri Lespresle

Winning project of the "New Worlds" call of the Ministry of Culture ; Beaumarchais-SACD Fondation.

At the beginning there is a place, a space and in the centre an object on which I wish to work, a piano.
I try to understand it, to grasp everything that can be seen: the space, the light, the volumes, the colours… And, at the same time, what can't be seen: the history, the buried memories, the symbolic charge, and what can't be heard: the clicking of mechanisms, the atmosphere of the place, the breaths, the inner comments.
In this place seized in its complexity, I come to inscribe my body, which through its unusual gestures and the production of "under" heard sounds manifests the unthinking of the relationship. This insertion aims both to make the place a plastic/visual/sound space and to work on its memory, to reveal, disturb and exacerbate its symbolism.
This approach stems from a need to deconstruct the representations and ideologies, cultural or otherwise, associated with the instrument. It is a kind of primal spirit that guides her. The feeling, the dreamlike, the "primary processes" as Freud would say, are projected and in a way "hallucinate". The relationship between the imaginary and the felt, and the possible dance between the two, determine the ways in which human and mechanical bodies are arranged. This creation will reveal, by giving the spectator a sensitive experience, the privileged relationship that I wish to maintain with the piano.
"In this way, improbable bodies, still without a figure or destination, will be invented in the musical body to body. Weft or traces of still unorganized organs – neither dead nor alive – which are membranous, dismembered, pressed together, packed, growing, branching…". Nietzsche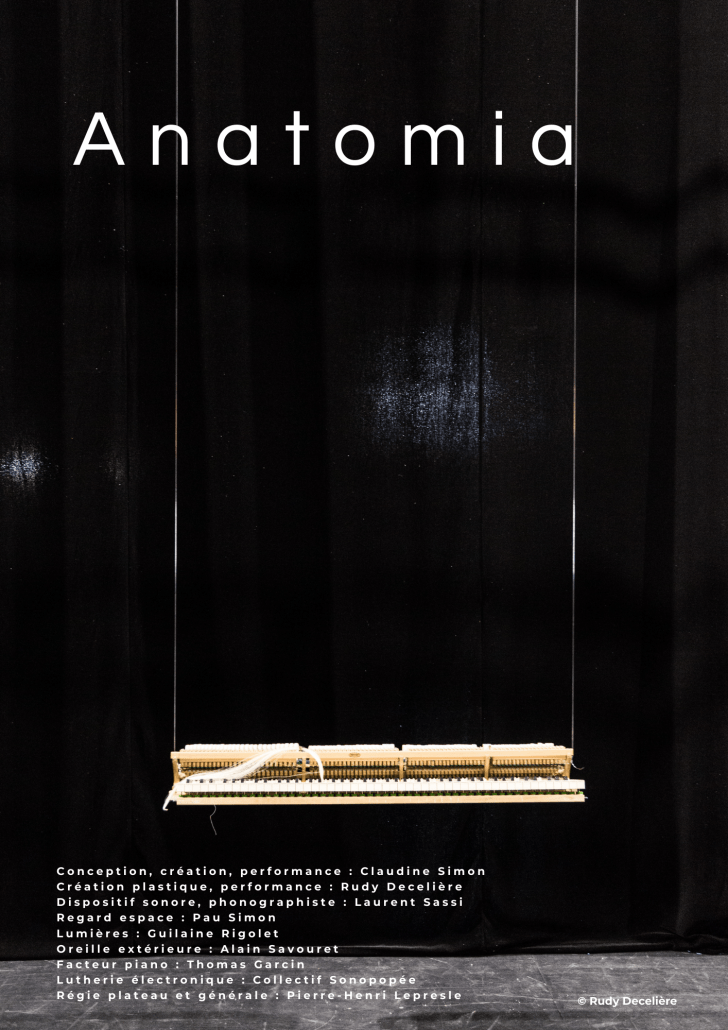 https://claudinesimon.com/wp-content/uploads/2D1A3116-copie-scaled.jpg
2560
1707
Claudine Simon
https://claudinesimon.com/wp-content/uploads/Claudine-Simon-log.png
Claudine Simon
2022-02-04 14:56:44
2022-12-18 16:12:45
Anatomia